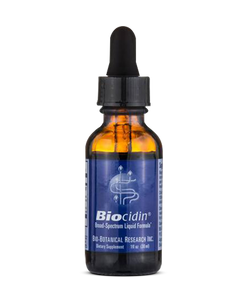 ---
Biocidin-natural anti-fungal, viral, bacterial supplement
Adv Formula Liquid 1 oz.
USE: Natural anti yeast, anti candida, parasite, and bacterial formula
Biocidin® is a broad spectrum botanical supplement especially designed for the digestive tract where it promotes a healthy and balanced internal ecology. In addition, it supports the immune system and vitality. Biocidin® has many beneficial effects throughout the body.


Broad-spectrum herbs and essential oils formula specific for the digestive system
For more than 25 years the most effective supplement on the market
Intestinal Cleansing as well as boosting the immune system
For children and adults
Biofilm destabilizer
Enhances resistance against bacteria and fungi in the intestines
Beneficial to a balanced intestinal flora
Promoting proper balance between positive and negative bacteria in the intestines
---
We Also Recommend