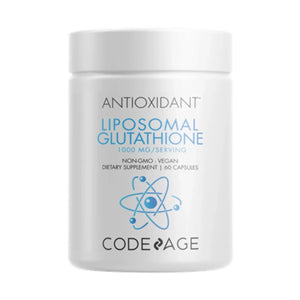 ---
Liposomal Glutathione
Codeage Liposomal Glutathione supplement delivers 1000 mg per serving of reduced L-Glutathione and essential phospholipids from non-GMO sunflower oil and lecithin in an all-in-one and convenient to use capsules solution.
This antioxidant glutathione 1000 mg liposomes formulation features a phospholipid complex, offering a vegan blend with an innovative liposomal nutrient-delivery system. Part or all the ingredients provided in this L-glutathione antioxidant formula in capsules can be received in adequate or extra amounts from glutathione foods and regular balanced diet alone. Individual results and body's glutathione levels may vary and depend on a lot of factors including stress, age, health conditions, diet, genetic markup, lifestyle, physical activity, regular exercise, and more. Vitamins, minerals such as sulfur or selenium, nutrients, or compounds can be found in most glutathione rich foods, fruits, protein foods, vegetables, grains, plants and other dietary sources.
Premium Ingredients All-in-One:
✓ Liposomal Glutathione proprietary blend, Liposomal delivery
✓ Reduced L-Glutathione 1000 mg per serving
✓ Phospholipid complex, Non-GMO sunflower oil and lecithin
Premium Formula:
✓ Antioxidant liposomal glutathione
✓ Essential phospholipids
✓ Vegan & keto-friendly, Non-GMO, Soy-free, dairy-free and gluten-free
✓ Free of carriers, fillers & artificial ingredients
✓ 1-month supply, 30 servings per bottle
✓ Manufactured in the USA
*This is a statement of nutritional support. This statement has not been evaluated by the Food & Drug Administration. This product is not intended to diagnose, treat, cure or prevent any diseases. Individual results may vary.
---
We Also Recommend