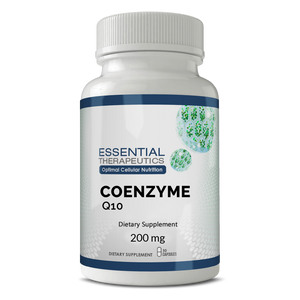 ---
CoEnzyme Q10
200 mg 30 softgels

USE: Coenzyme Q10 lessens the incidence of angina attacks, arrhythmias (irregular heart beats), cardiomyopathy (heart muscle damage), congestive heart failure (CHF), heart valve irregularities, hypertension, mitral valve prolapse, and periodontal disease; protects LDL cholesterol against oxidation; increases exercise tolerance; burns unwanted fat; supports healthy cholesterol and triglyceride levels; and is beneficial to smokers. (Bliznakov et al. 1988; Hattersley 1994).

CoQ10 is an enzyme found in all cells of the body. In short, all human cellular functions depend on ATP. ATP function depends on CoQ10. If it is lacking, the body's most important source of cellular energy is depleted and many medical conditions are aggravated. It is most concentrated in the heart and liver and is also a vital component in the mitochondria, the body's metabolic factories. It would take one pound of sardines, or two-and-a-half pounds of peanuts, to provide about 30mg of CoQ10. This is at the very minimum recommended daily allowance. In reality, the typical daily intake of CoQ10 from dietary sources is only about 3-5 mg per day - this isn't anywhere near the level required to significantly raise blood and tissue levels.
Coenzyme Q10 is one of the primary treatments for cardiovascular disease in Japan for approximately 12 million people - based on the evidence established by Folkers et al., showing that CoQ10 levels were decreased in patients with heart disease. Statins (Lipitor, Crestor, Mevacor, Zocor) block the body's production of CoQ10. A CoQ10 deficiency can lead to muscle pain (a common side effect for those taking statins), angina (chest or heart pain), hypertension, accelerated aging, and heart disease. The heart is one of the largest muscles in the body. CoQ10 deficiencies can lead to congestive heart failure (CHF). 
We are committed to providing the highest quality most absorbable form of CoQ10. This reduces the amount one needs to take for optimal effectiveness. There are less expensive CoQ10 products available. These are usually from inferior manufacturers and are made with fillers that prevent adequate absorption. Don't settle for second best. Make sure your CoQ10 is being absorbed. Don't compromise on your health.
Warnings: Pregnant or nursing mothers, children under 18, and individuals with a known medical condition should consult a healthcare professional before using this or any dietary supplement. This product is manufactured and packaged in a facility which may also process milk, soy, wheat, egg, peanuts, fish and crustacean shellfish. Allergen Warning: Soy (Soy Lecithin)
Packaging: White Plastic Other Ingredients: Rice Bran Oil, Gelatin, Glycerin, Soy Lecithin and Titanium Dioxide.
Shell Ingredients: Gelatin, Purified Water, Glycerin and Titanium Dioxide.
Suggested Use: As a dietary supplement, take one (1) capsule daily with a meal or as directed by a healthcare professional.
---
We Also Recommend