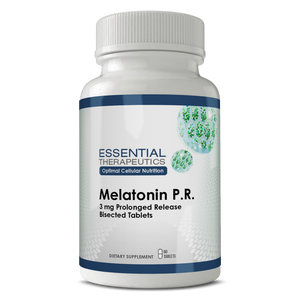 ---
Melatonin PR 3 mg
Time Release form, 60 tabs

Melatonin's role in maintaining normal sleep/wake cycles is well known. Supplemental melatonin is often needed to replace the body's declining production of this hormone that may occur with increasing age. Melatonin contains pure melatonin in a pharmaceutical sustained-release vegetarian capsule formulation that releases slowly over several hours to help maintain blood levels for a longer period of time.
Additional Info: For optimal storage conditions, store in a cool, dry place away from light. Tamper resistant package, do not use if outer seal if missing.
Packaging: White Plastic
Ingredients: In a propriety designed polymeric base formulated to release over an average of a 6-8 hour period.
Other Ingredients: Cellulose, Silica and Vegetable Stearate.
Suggested Use: As a dietary Supplement, adults take 1 tablet 1 hour before bedtime as directed by a physician only.
Supplement Facts: Serving Size: 1 Tablet; Servings Per Container: 60; Amount Per Serving Melatonin 3 mg
Warnings: Not to be taken by individuals under the age of 18. If you are pregnant, nursing, taking any prescription medication ( especially hormone replacement therapy), or have an autoimmune or depressive disorder consult a physician before using this product. Long-term use of melatonin had not been studied. Use of this product could cause hypothermia. Do not use before of while operation a motor vehicle or heavy machinery. Keep put of reach of children.  

---
We Also Recommend