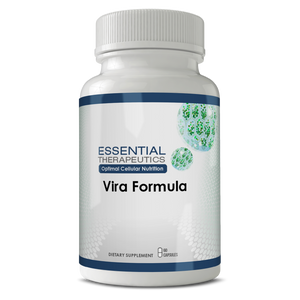 ---
Vira Formula-Echinacea, Astragulas, Goldenseal, and Olive leaf extract-Immune boosting Viral Support.
60 vegcaps


USE: To stimulate and support a healthy immunne system

Product Description: Essential Therapeutics Vira Formula is a potent combination of Echinacea, Astragulas, Goldenseal, and Olive leaf extract-recommend my patients use Essential Therapeutics Vira Formula as a preventative for cold, flu, sinus, or upper respiratory infections: take one twice a day and double dose for 10 days at first sign of infection. 
Chinese herbal is used to treat a wide variety of viral infections. Clinical studies in China have shown it be effective when used on an ongoing basis against the common cold.
Echinacea (Purple coneflower)
Echinacea is one of the most popular herbal medicines in the United States and Europe. In 1994, German physicians prescribed Echinacea more than 2.5 million times.
There are over 200 journal articles written about Echinacea. This herb is from the sunflower family and can be seen in many perennial gardens across the United States. Echinacea is thought to stimulate the immune system by increasing the production of and activity of white blood cells, especially natural killer cells (NK cells).
Goldenseal (Hydrastis Canadensis)
Goldenseal is a perennial herb native to eastern North America. This herb has shown to be a potent immune stimulator. It increases the blood flow to the spleen and increases the number and activity of macrophages. Macrophages are released in response to foreign substances that invade the body. These white blood cells roam around the body destroying unwanted bacteria, viruses, yeast, and tumor cells.
Other Ingredients: Vegetarian Capsule (Hydroxypropyl methylcellulose, water) L-leucine, Silicon Dioxide, and Cellulose.
Suggested Use: 1 to 4 capsules daily.
---
We Also Recommend